Performer Spotlight: RePercussion
Posted by Kidspace on August 29, 2018

As part of our Performance on the Frog series, we are looking forward to having RePercussion here at Kidspace on Sunday, August 19 at 1:00pm! Let's meet the members of RePercussion. Their names are David, Brian, and Bobby.
Can you each tell us a little bit about how you got into performing and how long you've been performing?
David: I have been performing since 3rd grade. I studied theatre in college and became a professional performing before graduating college. Apparently I caught the bug early on.
Brian: I started performing in theater when I was in high school. I worked at Disneyland after I graduated and pursued a career in acting. After 4 years at Disney, I changed careers and worked as a paramedic in the Riverside Fire Department for 3 years. After 3 years I realized I wasn't happy where I was, so I quit my day job to once again pursue a career as a performer. I have been performing professionally in Los Angeles for the last 3 years.
Bobby: I got into performing mostly as an actor—I have a BA in theatre from the University of Minnesota-Mpls. I've been performing since I was in elementary school.
You are all percussion artists, which is making sounds when an instrument it is hit, shaken, or scraped. What other instruments do you play or types of performing do you do?
David: I am an actor and juggler as well as ventriloquist and comic magician. I have worked around the world and have spent most of my adulthood performing in theme parks. I also play bagpipes, but not very well. My dad however is a very good bagpiper.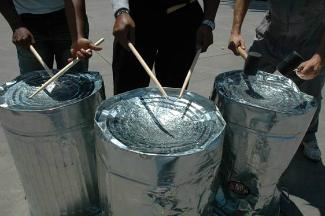 Brian: As far as music goes I am a percussionist, I play a wide variety of percussion instruments. I am an actor and performer at Knotts Berry Farm, I have played a variety of roles there playing a cowboy/bandit/banker/Marshall and have been in several shows where I have played the best of the blue grass instruments, the wash board and spoons. I am a drummer, singer, actor, and stuntman.
Aside from Knotts, I also perform as a stunt man at Pirates Dinner Adventure in Buena Park, where I utilize my experience as a swordsman and martial artist.
Most recently I performed stunts in the HBO series Westworld. Doubling for several characters on the show, and working alongside some truly talented actors.
Bobby: I am an Actor and Singer and a Tap Dancer, also.
Who are your role models or inspirations?
David: My parents were great role models. I have also always admired Jim Henson. He changed the world being a puppeteer. That's pretty impressive.
Brian: I've had several role models in my life, but of all the people I've had the pleasure to work with and learn from, I owe the most to my best friend, who has stood by me through thick and thin. He is incredibly young but despite his age his talent shines. He always inspires me to be a better performer and I have learned and continue to learn more and more from him every day.
Bobby: I have three idols I have studied and loved over the years. Fred Astaire, Gene Krupa and Frank Sinatra.
What do you like best about performing for kids and families?
David: I like performing for anyone. I most like performing for live audiences because we are losing touch with the live aspect of shows. To be able to respond immediately to a situation and have face to face connections is truly the best part of the job. To help someone just have fun watching a show is awesome.
Brian: The thing I love most about performing for families and all audiences is it gives you a chance to escape reality for a second. From the minute the show starts to the moment it ends in that moment you forget everything else. For a split second you forget about everything else.
Bobby: I like the great energy they bring to the crowd. When the family enjoys it there is a certain satisfaction I get that you don't get from just performing for random strangers.
What advice would you give to someone looking into pursuing a career in performing?
David: If performing is something you want to do, then do it. Study the arts, learn what you can and trust yourself. There are a lot of people out there performing, a lot of competition, but if you have fun and trust yourself, you will come out on top.
Brian: My advice to anyone who wants to get into performing professionally, don't give up. It's the absolute truth to say that to be a professional actor/performer is one of the hardest jobs you can get into. You will have to deal with rejection A LOT. However, don't give up and with time and effort you'll find success.
Bobby: Well, it's very tough and I would recommend they get a good foundation in whatever field they want to pursue. And most importantly get involved in the performing as soon as you can—experience will teach you whether it's right for you or not.
Thank you David, Brian and Bobby for sharing a little about yourselves and your art. We can't wait to see the show!
Sunday, August 19 at 1:00pm in the Stone Hollow Amphitheater – RePercussion combines high energy drumming and comedy, and will inspire you to make music too!
Blog by:
Anne Pierce, Art Programs Specialist, has been with Kidspace Children's Museum since 2010. She participated in the Master Planning committee and assisted in the development of the Imagination Workshop. As a theater professional Anne has worked for the Walt Disney Resorts, Universal Studios Hollywood, and Sid & Marty Krofft. She has also served on the board of the Los Angeles Guild of Puppetry.