Meet Blue, ATF Special Agent K-9
Posted by Kidspace on November 8, 2018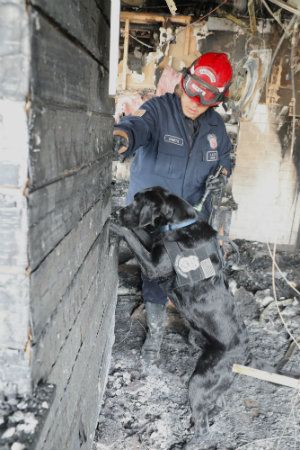 How are dogs chosen to be part of the Department of Justice Team?
The dogs with the best behavior are chosen to be a part of the Department. They are tested to be certain they can climb stairs, not be afraid of water, and can work in very loud noises such as gunfire.
How long do they initially train before they can start working?
The dogs begin their training once they leave their mother's care. They begin basic training such as potty training and commands for about 6 months. At this time, the Department choses their dogs and they begin formal training. All this happens before they can start working.
How old is Blue?
Blue was born on March 9, 2014 so he is 4 ½ years old.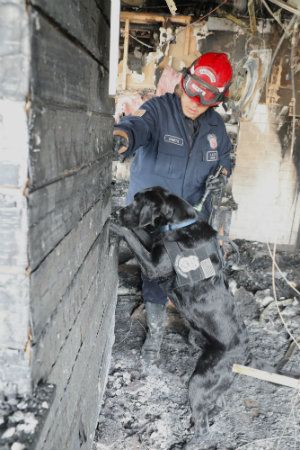 Does Blue enjoy the work he does?
Yes. Blue gets up very early for work and he's eager to hop in the car and get to work.
What is his training schedule?
Blue has a very busy training program. He trains every single day for about 4 hours per day. He trains so hard because this is how Blue eats his meals.
What is Blue's favorite treat or toy?
Blue's favorite treat is a chew he gets every day after he trains. His favorite toy is a softball because he loves to play Retrieve.
How did you become Blue's handler/trainer?
Blue was assigned to me by the Department of Justice after they carefully interviewed all of the handlers at the K-9 academy. All dogs are assigned to their handler based on their ability to work together as a great team.
How long have you been working together?
Blue and I have been a team since November 7, 2015.15.
What's your favorite part of the job?
Working is Blue is my favorite part of the job. He's my partner and together we catch bad people.18. What has been your most memorable experience as Blue's handler/trainer? In one case, Blue found evidence that helped to track down a suspect for a very large case. Everyone was so grateful that Blue helped solve the case.
Blue and Investigator Gaeta will be at Kidspace November 18 from 11:00am-12:0pm. Please stop by and say hello to these amazing First Responders!