Keep the Fun Going: How to Organize A Toy Library
Posted by Kidspace on August 14, 2019
As a working mom to two energetic boys, an 8 year-old and a 4 year-old, I'm very grateful for all the great parenting tips I pick up at Kidspace. Like many of you, I love a good visit to our amazing toy store – the Busy Bee Learning Store. Crafted, quality toys that are educational, encourage open-ended play, and built to last line the shelves of our store, along with wonderful books you won't find everywhere. My problem, and I think it may be a common one, is what to do with all of this wonderful stuff in my tiny house! So this week I thought I'd share a few tips on how to set up a really great toy library at home, using some of the principles of "Ready To Play" that we use at Kidspace.
1. Ready to Play
Play spaces can be very small – a shelf, a table, even a corner of a room. But they should inviting and look like something is about to happen! This is what we call Ready to Play. One
or two toys, set up to spark interest. This could be three trucks and a pile of sand outside. It could be a magic wand and a cape on a chair. A fresh sheet of paper and three or four primary colored crayons. Less is more with this concept and it's the basic idea for setting up a great play experience.
2. Under Stock
So then where do all the other toys even GO? Rotate! At Kidspace, we put out seasonal toys and only what we can easily display – the rest goes into storage, out of sight but not forgotten. You can do the same thing at home, even in a small space. Under bed storage, a closet, even just in a covered basket all work to clear a space and make more room for playing. The rest get packed away for a few weeks, then brought out again. I realize that it sounds like more work, but if you try it you quickly realize that the less you put out, the less you clean up each day and it's amazing to see how much play those toys will get!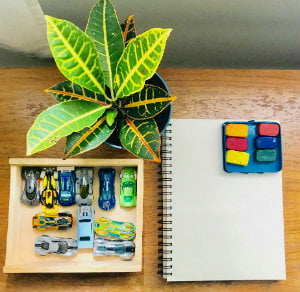 3. Organize
By Theme When we put together a display at Kidspace, we might organize it by age range, by color, by safari animals or dinosaurs- anything that makes sense and helps tie it all together. We all get overwhelmed by "stuff" and little ones are especially prone to being upset by too many choices. For your four year old, you might put out just a few books about the beach, a stuffed shark, some wooden blocks or building toys to build an aquarium. Solid favorites like a train set get to stay put, but have their own forever spot. Maybe add some dress-up options and play silks and you're good to go. Make a story out of the toys on display – children find this very inviting and not at all limiting!
4. Keep it Fresh
But of course, we all know: There. Are. So. Many. Fun. Toys. Keep it interesting and fresh at home for peaceful mornings and quiet time. Every few weeks take 30 minutes and put a few things away and pull a few more things out. I guarantee that this doesn't take as much time or space as it sounds! Okay! Now that you've got a plan and you know how to stay on top of that cluttered feeling, there's no need to feel overwhelmed by toys. And remember – all members get 15% off every purchase at the Busy Bee Learning Store! Let one of our amazing staffers help you out on your next visit!
Jes Whittet is the Membership and Recruitment Supervisor at Kidspace Children's Museum. She has been at the museum since 2016 and is mom to two very active young boys who are yard-sale fanatics.