Diary of a (Sudden) Work-from-Home Parent
Posted by Kidspace on March 18, 2020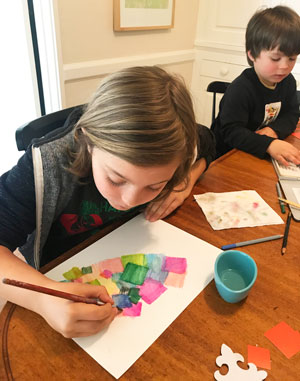 Like many of you, I'm working from home while my kids' schools are closed for the next few weeks. After combing the internet for some guidance and a little solidarity, I've compiled a few tips as we make our way through these next few weeks of flattening the curve. Here on our K-Blog, I am sharing our daily schedule, lessons learned and also my (hopefully minor) mistakes as my family navigates staying home together.
| | |
| --- | --- |
| If you're a Kidspace supporter and member, then you probably agree that play is the work of childhood. There's lots of great advice out there, but the big ideas that really resonate for me are making sure that the kids don't experience this Covid-19 outbreak as a dark and scary time, and knowing that I don't have to jump straight into homeschooling my two sons who are 9 and 5. They are old enough to understand that we are staying home for a while to do our part to help keep people from getting sick all at once. So while we're all home together, we all have the things we need to do each day to make life work. It doesn't have to be perfect, but it does need to be harmonious. So that's the goal in my house – keep it light and easy as much as possible. | |
There's lots of good schedules going around and we took that basic idea and sat down Monday morning and came up with our own version. Rather than focus on the specific timing, we are focusing on the rhythm of the day. We are doing some big energy things each day, having time together, and also time apart. We don't usually do a lot of screen time, but I know that if I need to work each day, I need to capitalize on a little educational television to help me get the focused time I need, and that's totally okay! So here's what we came up with:
Usual Morning Routine:
Breakfast, Get Dressed, Make Beds, Clean-up
Outside Adventure:
GeoCaching, Scootering around Neighborhood, Lacy Park, Arlington Gardens, Puddle Jumping/Rain Walk, Snack Outside
Quiet Time:
Screen Time, Mom Works
L U N C H
Quiet Time:
Nap Time, Chores, Reading, Mom Works
Family Time:
Back Outside, Games, Read Alongs, Legos, Free Play, Mom's Full Attention
The things I'm trying to keep in mind as we go through each day:
This will get easier as each day goes by! The structure we establish today will be learned and accepted quickly.

Little kids, big emotions! Unacceptable behavior is the sign of an unmet need. Best guesses are usually connection/ attention, food, or rest.

Little kids need way more snacks than you can possibly imagine. Even if we head out for an hour, pack a snack!

I don't have to entertain anyone. It's okay to be bored.
| | |
| --- | --- |
| Monday was good, and Tuesday was better! I got some work done. My kids mostly got along. Here are a couple of hyper-local outdoor spots to try: | |
Best of luck out there, and let us know what you're doing by tagging Kidspace on social media!

Instagram and Twitter – @KidspaceMuseum

Facebook – @KidspaceChildrensMuseum

Follow – #KidspaceAtHome