Create the Change Day at Kidspace
Posted by Kidspace on October 4, 2018

Project Giving Kids, a nonprofit organization committed to connecting youth to causes, presents the first annual Create the Change Day LA, hosted by Kidspace Children's Museum. This hands-on service event for kids, teens and families is taking place at Kidspace on Sunday, October 7 from 3:00 to 5:00pm. Museum admission will be ½ price during these event hours only.

"Project Giving Kids is thrilled to offer an afternoon of hands-on service to kids and families in the greater LA region," says Molly Yuska, PGK Founder. "Create the Change Day is the perfect way to introduce young children to the joy of service to others. At PGK, we strive to connect youth and families to the amazing nonprofits in their own backyards they often do not know about that would love to benefit from their passion and involvement. We do that through our website and mobile app where youth can find fun and age-appropriate service opportunities and through select events like Create the Change Day."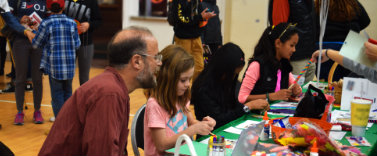 Organizations from around the Los Angeles area will provide an activity station focused on a service project for participants to complete. From assembling toiletry kits for low-income families to making toys for shelter animals, these fun-filled projects will not only greatly benefit these organizations, but also provide youth a chance to learn about how they can get involved locally in making a difference in the lives of others. "Kidspace is excited to partner with Project Giving Kids for Create the Change Day because we believe that all children are good people and engaged learners," said Kristen Metzger, Kidspace Programs Manager. "Project Giving Kids provides our children with opportunities to both actively learn about, and participate in, their community through service."
With support from the California Community Foundation, this special event will bring together members of PGK's nonprofit partner network and will provide numerous ways for participants to get involved in giving back, all in one afternoon. Participating partners include: Access Books, Crayon Collection, Do Good Bus, Food on Foot LA, Heal the Bay, Heaven on Earth Society, Grades of Green, Karma Rescue, LA Family Housing, North Hollywood Interfaith Food Pantry, PATH, School on Wheels, St. Vincent Meals on Wheels, and Together We Rise.