Blindfold Painting and Other Shenanigans
Posted by Kidspace on April 3, 2020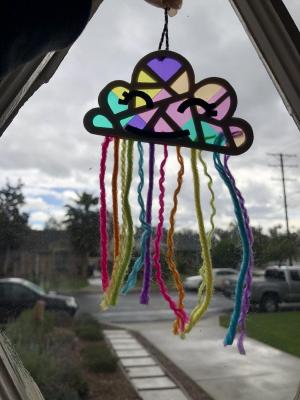 "Let's get creative!" is what I told my kids last week. The idea of coming up with projects to put on the Kidspace YouTube channel was extremely appealing for our 10 and 14 year olds. The kids had so many great ideas, many of which I had to reign in, but we loved the result. In creating a schedule that works for our family, we decided to include both art and physical education each day. Today, I'll share our artistic adventures. I hope it inspires you and your family!
As you can see we were forced inside due to rain and windy weather over the last few weeks, so I threw down a shower curtain as a tarp in our kitchen. Also if you are missing paint brushes, you can always use natural material (leaves, celery stalk, etc.) or q-tips or finger paint! I had been building out our arts and crafts shelf in preparation for spring break anyway, so luckily we were ready to go. However, if you are looking to order supplies online, check out these companies:
Some other versatile supplies to have on hand are tissue paper, yarn, construction paper, tape, and keep ALL your empty paper towel/toilet paper rolls, cardboard boxes, and egg cartons. Lay the materials out and see what inspiration sparks!
Get more inspiration with projects and videos from the Kidspace-At-Home hub. Please share your projects with us by tagging @KidspaceMuseum or @KidspaceChildrensMuseum and #KidspaceAtHome!