A Look Back: Memories of Kidspace
Posted by Kidspace on May 2, 2019
In honor of Kidspace celebrating 40 years, we are taking a look back with former employees, longtime guest, and Kidspace Members as they share some of their favorite memories.
Brianna Cutts
Kidspace was my first job after graduating from college in 1992. I spent seven wonderful years working in the Education and Exhibits departments, doing everything from floor managing to hiring educators, maintaining exhibits to working birthday parties. Kidspace gave me countless opportunities I will always treasure, such as learning how to safely use power tools and correctly hold an 8-foot long boa constrictor!
In addition to being an innovative, can-do work environment, Kidspace instilled in me qualities that I use everyday as a museum designer, such as learning by doing, collaborative teamwork and the importance of prototyping ideas. With the introduction of live animals in about 1995, we developed natural history exhibits and kits. Looking back today at our designs reminds me that most of our efforts had no budget, as you can see in the upside-down plastic plant pots painted to look like stools.
I remember making the bee kit, trying my best to mimic a proboscis at a giant scale, using a rubber tube and electrical wire. Critter Caverns was an immersive climbing structure highlighting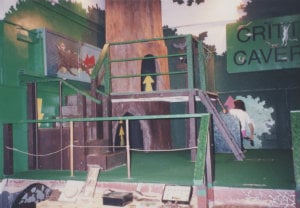 local natural habitats. It replaced the Ant Wall, an extremely popular exhibit in which children pretended to be ants, crawling up and down platforms to reach an overhead perch. On occasion, someone would be too scared to come down from the top of the Ant Wall and an educator would have to crawl inside to help.
Kidspace provided the perfect platform for me to better understand the museum field, as well as appreciate the importance of informal learning. I also had the opportunity to work with amazingly talented colleagues and advisors who were just as committed as I was to getting kids excited about learning.
For more information about celebrating 40 years of Kidspace, click here.