UFOats by Bean Sprouts
Posted by Kidspace on May 1, 2020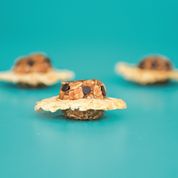 UFOats
This twist on energy balls is out of this world.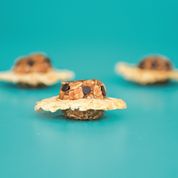 ¼ cup (65 g) nut, seed, or soy butter
¼ cup (56 g) mashed sweet potato
2 tablespoons (40 g) honey
¼ teaspoon pumpkin pie spice
½ cup (78 g) old-fashioned oats
2 tablespoons (22 g) mini chocolate chips
10 dried pineapple rings
YOU WILL ALSO NEED: Child scissors
1. In a large bowl, blend the nut butter, sweet potato, honey, and pumpkin pie spice. Add the oats and stir until evenly distributed.
2. Use your hands and roll little chunks of the mixture into 1-inch (2.5 cm) balls. Place 6 to 8 mini chocolate chips around the top of the ball for UFO portholes. Place on plate and chill for 30 minutes.
3. Use child scissors to enlarge the center hole of the pineapple rings so they fit onto the center of the sweet potato balls. Bean appétit!
Makes 8 to 10 UFOats
FInd this recipe and more in their book: Bean Sprouts Kitchen.
Check out other May the Fourth: Family Activities here.