Share Art, Share Love
Posted by Kidspace on February 10, 2021
Valentine's Day is a reminder to share the love with your significant other, family, and friends. We share expressions of love in so many different ways; cards, gifts, food, music, spending time together, and art. While we may not be able to gather with friends and family in-person, we can still share our love through art and individual creativity. For families, spending time making art together is a perfect way to celebrate the joy of creativity with children.
Meet Ruben Rojas, a Los Angeles based artist, muralist, and activist. He began transforming blank walls into unique, empowering messages that today are uplifting communities and challenging the public to create new dialogues. Watch how he shares love through his art.
Learn more about Ruben here.
---
Share the Love Sidewalk Chalk Art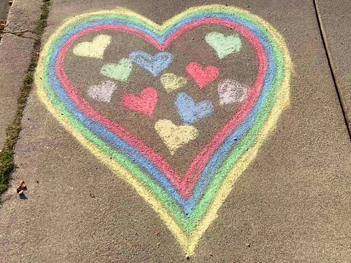 Art can provide many different opportunities for growth and learning. Expressing feelings with art is a powerful way to boost social-emotional learning in children and can be calming and meditative. It can provide an outlet for emotions that big play movements don't always provide. Art is also a great way to strengthen fine motor skills and muscles, practice new skills and communicate with others. We can even use art to celebrate other cultures through the languages of love. In Italian, love is amore, German is liebe, in Afrikaans (South Africa) it's liefde, in Malay it's cinta, and in Tagalag (Philippines) it's pag-ibig.
Here's an activity to learn some new words, practice fine motor skills, express some emotions, and share the love with your neighborhood.
Supplies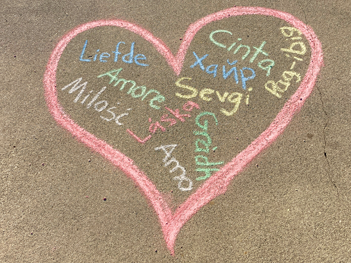 Sidewalk chalk
Sidewalk or driveway
Directions
Draw a giant heart outline on the sidewalk
Using the list above, fill the heart in with the word love written in as many different languages as you choose
For younger children, draw a bunch of smaller heart outlines inside the large heart and have them color them in
For more fun, create a trail of hearts on sidewalks in your neighborhood and share the love with your neighbors.
---
More to Share
Need chalk? Grab some at the Kidspace Store!
---
Credit: Languages of Love