Halloween Food
Posted by Kidspace on October 27, 2021
Whether ye' be monster or human, the growling deep within our bellies is something that we all have in common! Exploring creative ways to eat is simply a delicious way to celebrate Halloween at home this year. Always hungry for fun, we've put together a menu of Halloween inspired snacks, meals, and treats for you to try!
---
Monster Apples Recipe
Ingredients
Apples
Water
The juice of one lemon
Nut butter
Cream cheese
Mini marshmallows
Strawberry jam
Chocolate sauce
Tooth picks
Directions
Cut the apple into slices – we found an apple slicer is great for this!
Mix the water with the lemon juice and place the apple slices in the water, this will help keep the apples from turning brown as you prepare the rest of your ingredients!
Mix equal parts nut butter and cream cheese together.
Take the apple slices out of the lemon water and shake or dry them off. Spread some of the nut butter-cream cheese mix on one slice.
Place the mini marshmallows in a row on the curved edge of one slice of apple to make "teeth". Optional, cover one or two mini marshmallows with the berry jam, so they look "bloody" (It is Halloween after all!).
Spread nut butter-cream cheese mix on another slice of apple, and place on top of the one with the "teeth" so it looks like a mouth. Secure the two pieces together with two tooth picks.
Use other marshmallows to create the eyes. Place a marshmallow on top of each tooth pick in the apples. Use a dot of chocolate sauce as the pupil of the eye. The end of a chopstick or a clean paint brush works well for this step.
Enjoy!
---
It's ALIVEn up The Learning!
Explore variations on the monster apple. What other kinds of creatures can you make with your ingredients?
Integrate different foods to try, like kale (which we thought made for a great mustache). It's totally normal for kids to have an aversion to vegetables, and this is one way to introduce them in a fun and interesting way.
Pick out monster makings together! Creators often have more fun seeing their vision come to life when they can provide input. Plus, this can lead to some fun food discoveries at the grocery store.
---
Wicked Good Halloween Dinner
Halloween is an exciting day, and getting a good dinner in before all the treats can be a challenge. Invite kids to help with mixing, measuring, and even some cutting to practice math skills and increase comfort in the kitchen. Plus, it helps give kids ownership and enjoyment of what they will be eating!
Supplies
Sheet pan
Large frying pan or grill pan
Medium sauce pot
Aluminum foil
Jack-o'-lantern (or other Halloween favorite) cookie cutter or small paring knife
Ingredients
(Serves 4; total time 30-45 minutes)
4 burger patties (beef, turkey, or veggie patties all work)
4 burger buns
4 slices yellow cheese (American cheese melts the best, but cheddar works too.)
4 leaves of lettuce
4-8 slices of tomato
2 sweet potatoes
2 tablespoons pumpkin pie spice
Salt
Oil (olive oil or vegetable oil work best)
1 head of broccoli
Directions
Pumpkin Pie Spiced Sweet Potato Fries:
Heat oven to 450 degrees.
Line the baking sheet with aluminum foil.
Cut sweet potatoes into long thin strips.
Kids can do all the next steps!
Place the sweet potato strips on the baking sheet in a single layer.
Add 2-3 tablespoons of oil, a couple of pinches of salt and 2 tablespoons of pumpkin pie spice to the potatoes and toss to coat them evenly.
Place the sheet pan in the center of the over for 25-35 minutes.
The fries are done when they are tender if poked with a fork and a little brown and crispy on the edges.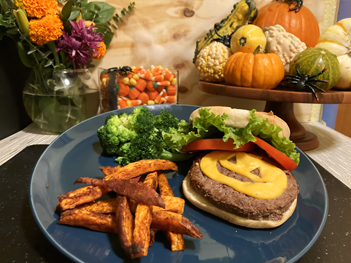 Burgers:
While the sweet potato fries are baking, cook the burger patties in the frying pan or grill pan with a little oil.
While the first side is cooking for 3-4 minutes, have kids unwrap the cheese slices and use the cookie cutter to cut out a jack-o-lantern from the center of each slice. Keep the cut out for the burgers but the scraps are a great snack while waiting for dinner to finish!
Flip the burgers and cook for another 3-4 minutes. In the last minute, place the jack-o-lantern cheese slice on the burgers to melt.
Remove burgers from the pan and let them rest for a few minutes.
Broccoli:
While the burgers rest, cut the broccoli into florets. Kids can help with this part by using a butter knife or pulling florets off the bunch with their fingers.
Heat the medium sauce pan with a little oil in the bottom and add the broccoli to it.
Sauté for a couple minutes then add 1/3 cup water to the broccoli. Cover and steam for 3-4 minutes.
When the broccoli is done its time to assemble everything. Slice the tomatoes and place the lettuce leaves and buns out for family members to add to their burgers. Add any condiments that your family enjoys with their burgers and serve with the steamed broccoli and sweet potato fries and voila, dinner is served!
---
Hauntingly Good Mix-ups
Try out making "fries" with vegetables other than potatoes. Carrots, parsnips, and jicama are great options to try. We've also used cookie cutters to cut shapes out of slices of sweet potatoes and bake them!
Use the opportunity for older children to start learning and getting comfortable with knife skills in the kitchen. Cutting the broccoli into florets or helping cut the sweet potatoes is a good starting point.
---
Candy Creation Challenge
Halloween is synonymous with candy, but what to do with it all? We know of at least two classic strategies. Eat. All. The candy. OR hoard it all away like a squirrel preparing for winter. No matter your strategy, you can use your haul for some candy creating!
Encouraging your child to play and think about candy as a building material helps develop divergent thinking and problem-solving skills. As an added bonus, it slows down the candy consumption. At least… maybe a little. Here are three maker challenges (one for each layer of candy corn) for your smarties!
Supplies
Leftover candy
Plate, platter, or other surface to create on
Optional:

Bowls (for sorting)
Toothpicks
Graham crackers
Pretzel sticks
Edible spread (nut butter, frosting, cream cheese, etc.)
Butter knife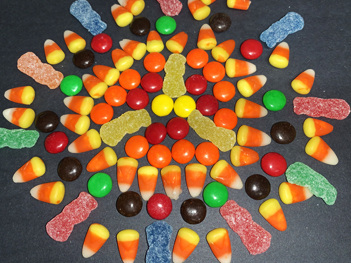 Challenge 1: Candy Kaleidoscope
A kaleidoscope uses mirrors to reflect objects into a symmetrical pattern. For this challenge, see if you can use your candy to create three or more 'reflected' patterns, as though you were looking through a Kaleidoscope!
Hint: Try sorting candy by shape, size, or color before making your pattern!
Challenge 2: Candy Creatures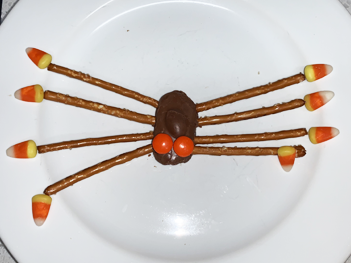 Creatures come in all shapes and sizes, and can be real, or imaginary! In this challenge, can you use your candy to create creatures? Try creating a creature with more than two eyes. Now try creating a creature with just one kind of candy!
Hint: Try applying a thin layer of spread (nut butter, frosting, cream cheese) over a graham cracker or a plate so that candy pieces more easily stick and stay in place!
Challenge 3: Candy Tower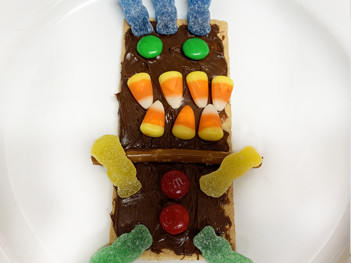 Towering tall into the night, surrounded by mist, a tower looms…the TOWER OF TREATS! This is maybe the trickiest of our three challenges. Can you use your candy to make a tower? Can you make a tower taller than your hand? What about a tower with only one kind of candy?
Hint: Consider ways you might change the structure of you candy by squishing, mashing, or even cutting it! Also consider bringing in other elements to support, like toothpicks!
To view all our Halloween blogs and more, click here.
---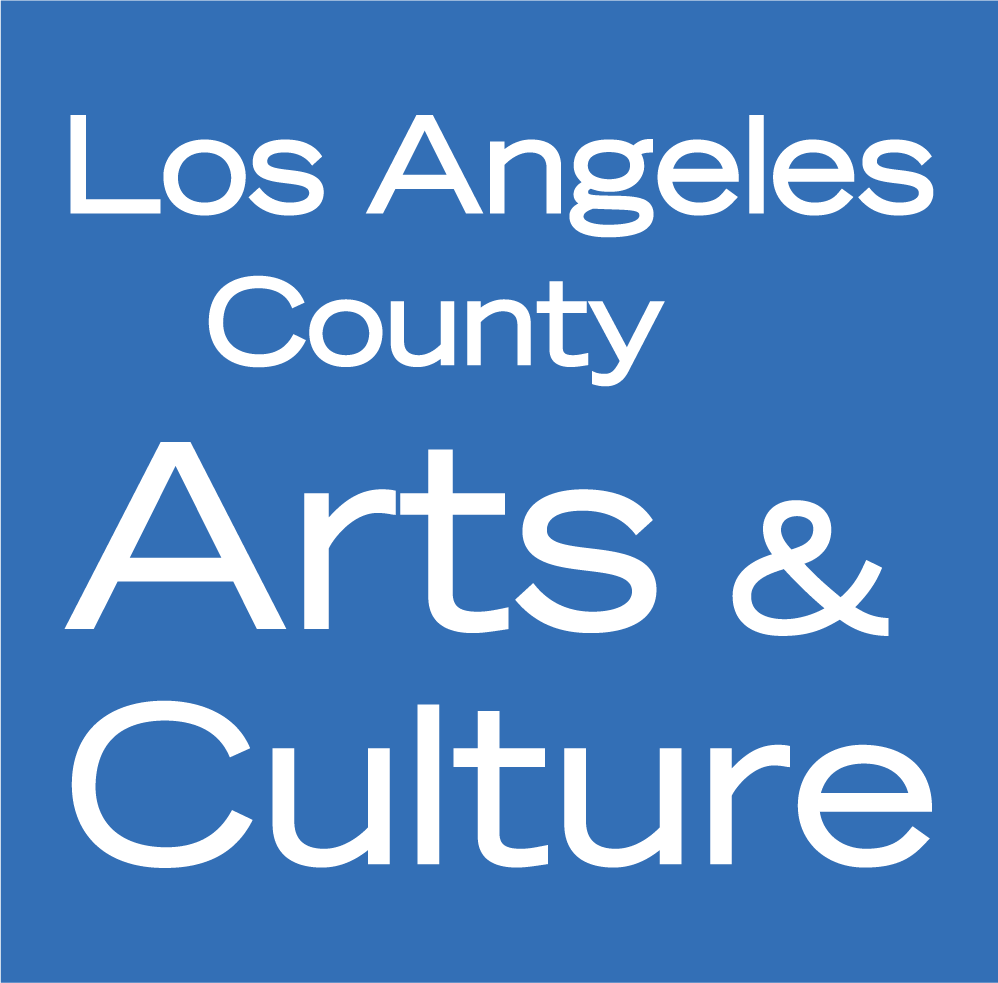 This program is supported, in part, by the Los Angeles County Board of Supervisors through the Los Angeles County Department of Arts and Culture.