Summer Camp 2023
Kidspace Summer Camp offers classic summer camp memories—minus the mosquitos! If your child loves nature walks, arts and crafts, sing-alongs, and s'mores, they'll love making new friends at Kidspace Summer Camp.
Kidspace Summer Camp is fully booked. We will fill any cancellations from our waitlist.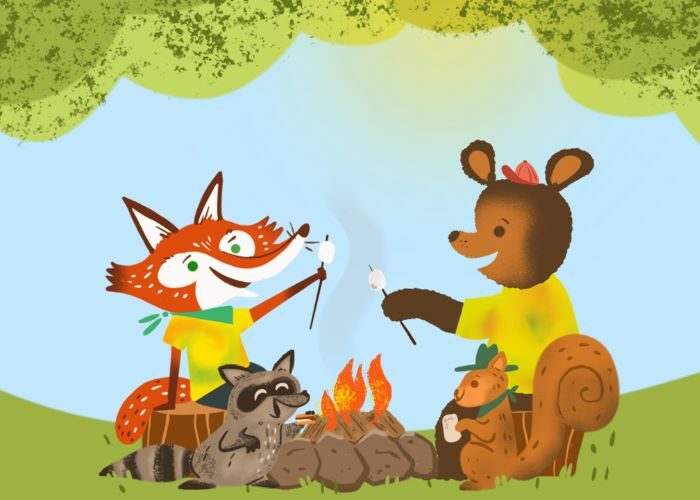 Every Day is a New Adventure!
Each week will bring to life a different National Park with new camp mascots, trail names, and challenges, plus up-close experiences with live animals, water play days, and all the summer fun of Kidspace Museum. At the end of each week, families gather around the campfire to cheer on silly camper skits and sing along with some new favorite camp songs.
Camps run weekly from June 12–August 11, except for the week of July 3. Each camp is five full days at Kidspace, Monday through Friday, from 8:45 am to 3:00 pm, and designed to delight children 5–8 years old.
Sign up for one unforgettable week of camp or the full 8-week series.
Summer Camp 2023
$575 per camper per week | $550 for members
Ages 5–8.
Kidspace Summer Camp is fully booked. We will fill any cancellations from our waitlist.
Sessions
Week 1 – June 12–16
[SESSION FULL] Camp Yosemite
Explore the landscape, ecology, and wildlife of the Sierra Nevada region of California.
Week 2 – June 19–23
[SESSION FULL] Camp Petrified Forest
Dig in to the ancient forest of Arizona to uncover fossils and rock formations.
Week 3 – June 26–30
[SESSION FULL] Camp Carlsbad Caverns
Is it a stalactite or a stalagmite? Delve into the caves of New Mexico and the nocturnal animals who love them.
Week 4 – July 10–14
[SESSION FULL] Camp Channel Islands
Get to know the protected species and their island habitat off the coast of California.
Week 5 – July 17–21
[SESSION FULL] Camp Arches/Bryce Canyon
Gear up to discover unbelievable rock formations in Utah, the process of weathering that forms them, and the canyoneering it takes to explore them.
Week 6 – July 24–28
[SESSION FULL] Camp Joshua Tree
Head to the California desert to encounter some native reptiles and gather around the campfire for stargazing and storytelling.
Week 7 – July 31–August 4
[SESSION FULL] Camp Denali
Explore the tallest peak in North America while you learn about the animals and people of Alaska.

Week 8 – August 7–11
[SESSION FULL] Camp Lassen Volcanic
Discover that the earth is very much alive under this dormant volcano in Northern California.
Kidspace Summer Camp is fully booked. We will fill any cancellations from our waitlist.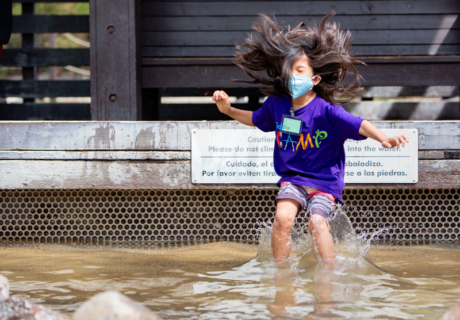 Details
Kidspace Camp is for children ages 5 to 8.
All camps feature indoor and outdoor activities.
Project supplies and a camper t-shirt are included.
Masks are strongly encouraged indoors.
Food will not be provided. Campers will need to bring their own snacks and lunch. Kidspace is a nut-free facility.
A signed registration form is required before purchase to secure a spot in camp.
Please review our camp policies and code of conduct before purchasing.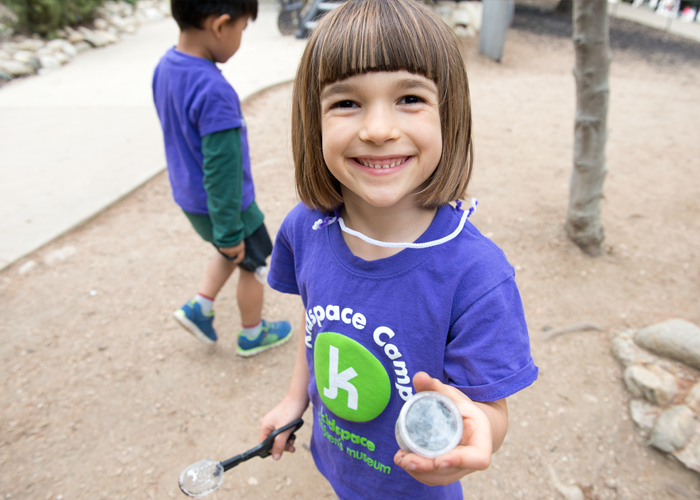 Camp Philosophy
Kidspace Camps invite children to create, laugh, learn, and explore in a safe and welcoming place where kids can be kids. We believe all children are curious explorers, engaged learners, creative and critical thinkers, thoughtful individuals, and kind friends. We offer a wide range of camp themes designed to encourage budding nature lovers, activate creative minds, inspire space enthusiasts, and more!